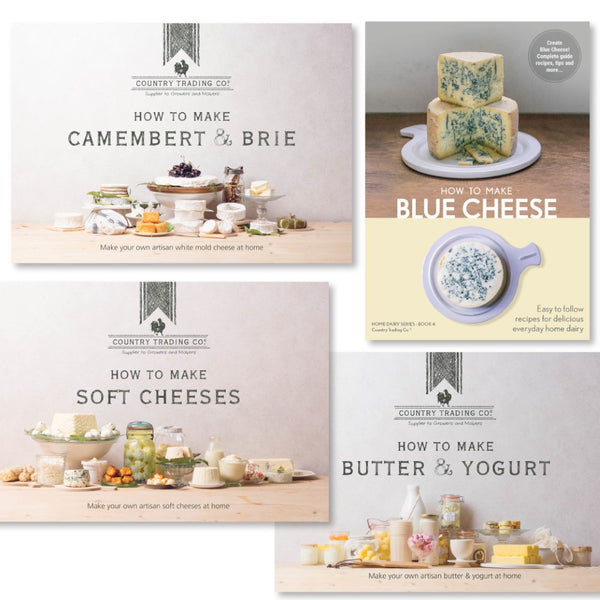 Cheesemaking Books - Collectors Set
Want to learn how to make cheese, yogurt, butter, and more?
Get the complete set of Country Trading Co. Home Dairy books and save.  All 4 volumes of our home cheesemaking guides are in one collected set.
4 cheesemaking recipe books.
Vol 1. How to Make Butter and Yogurt
Vol 2. How to Make Soft Cheeses
Vol 3. How to Make Camembert & Brie
Vol 4. How to Make Blue Cheese
Over 300 pages of recipes, methods, and information on everything from kinds of milk to starter cultures and techniques for making and maturing a wide range of homemade butter, yogurt, and cheeses.
Each book is like a cheesemaking workshop in your kitchen covering every aspect of that family of cheesemaking and providing practical step-by-step recipes. 
Explore Each Book
Before you buy the set, have a look through each book individually.
Reviews
4 Cheesemaking books
The books I have bought are filled with information which is clear to follow with heaps of pictures. Totally loving all your products and will continue to support your business
Cheese Making Books
Wonderful little books. Beautifuuly illustrated and easy clear instructions.
Cheesemaking Books
Really good set of books. Clear instructions and great selection of recipes included. Makes a great gift for anyone who enjoys to cook and likes to know where their ingredients come from.
Great book set
Ive been making hard cheeses for years but wanted to expand my knowledge and try my hand at other cheeses, butters and yogurts. The books in this set are well written,informative, easy to follow and there are good recipes and hints and tips. These books are a great resource,with good pictures to help, a great collection and confidence inspiring,thanks.