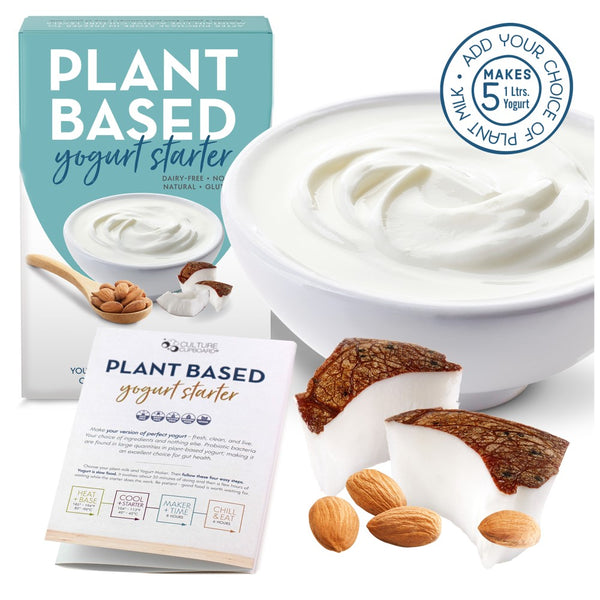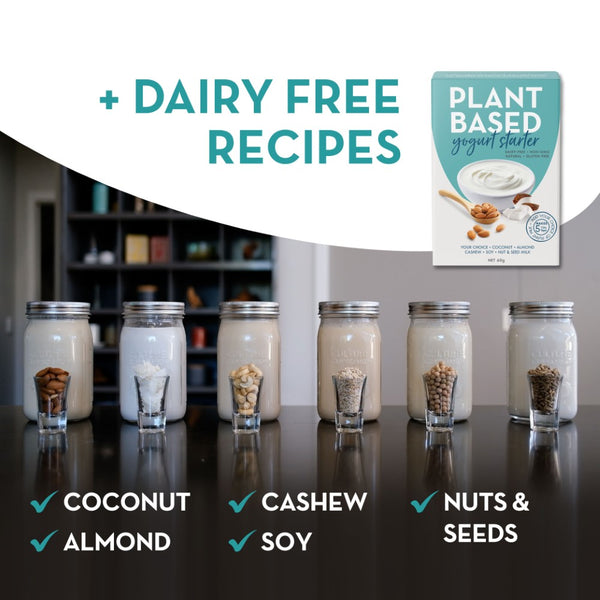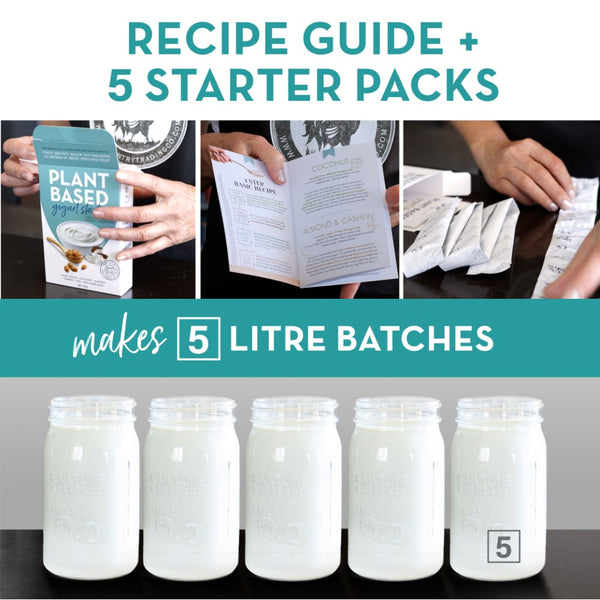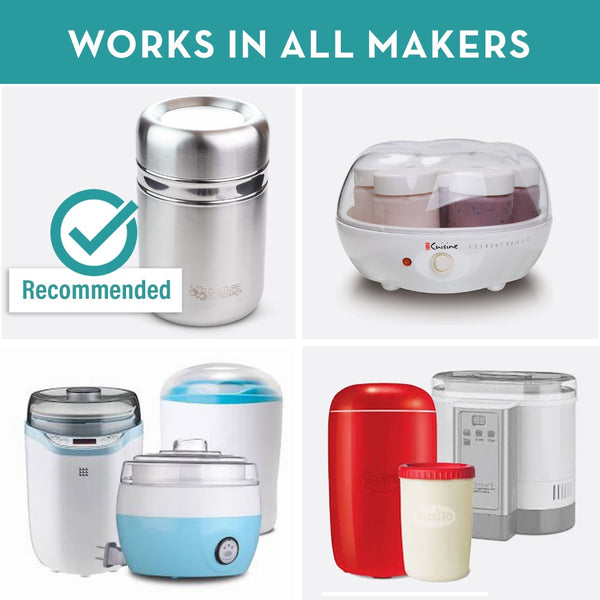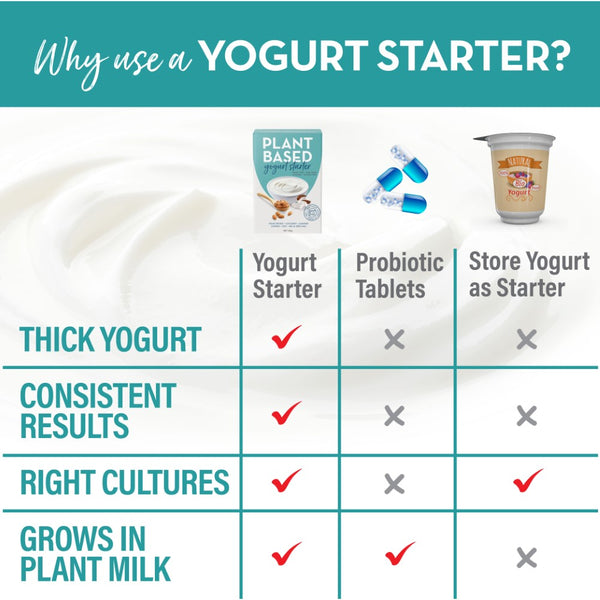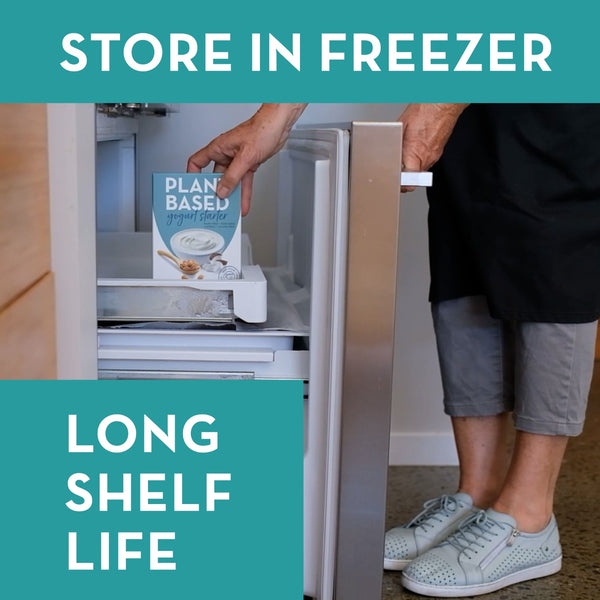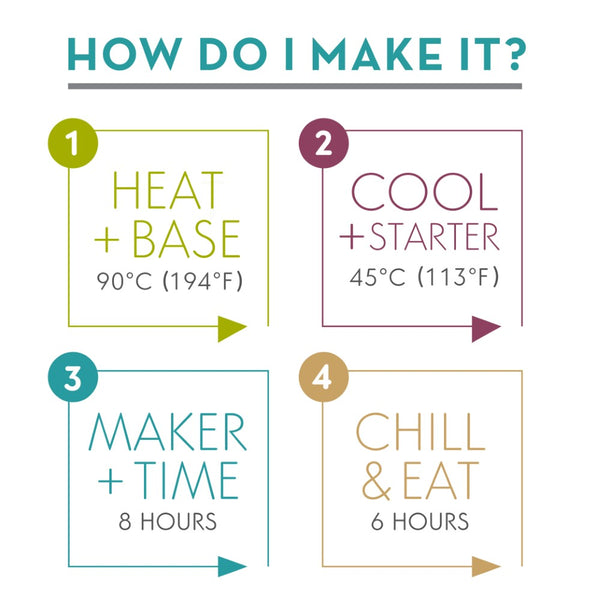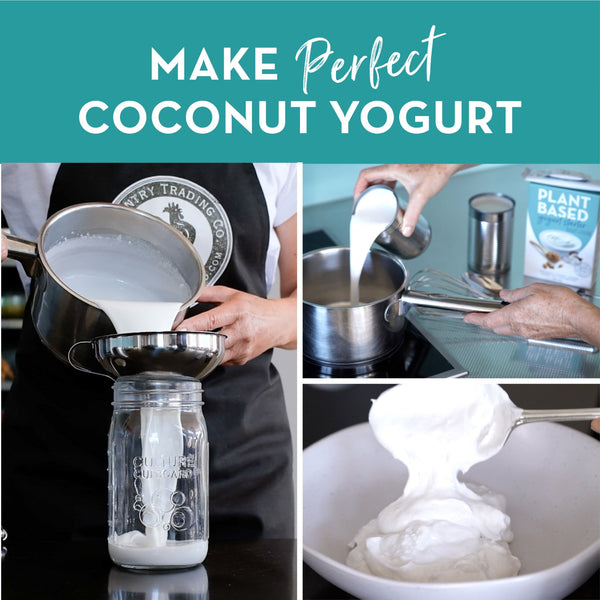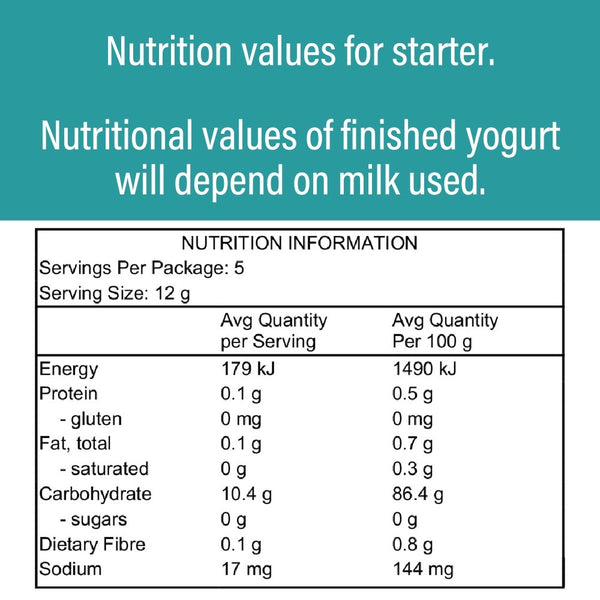 Dairy Free Yogurt Starter Culture - 5 Litres
Turn your choice of plant milk into fresh dairy-free yogurt. Just add your favourite nut or seed milk and follow the recipes provided.
Make 5 litres of your favorite non-dairy milk.
THIS YOGURT CULTURE CONTAINS:
5 sachets of starter culture
5 sachets of organic base
4 strains of dairy-free probiotic yogurt bacteria
Plant-based yogurt recipes include coconut, almond, cashew, soy, and more.
Welcome to the only yogurt culture designed for dairy-free yogurt fermentation. These specific strains for culturing plant-based yogurts deliver more consistent and cost-effective results than probiotic tablets or capsules.

BUY MORE AND SAVE
We offer this yogurt starter culture in a 10-litre twin pack.  It has a long shelf life and is more economic to buy click here. 
How to make Dairy free yogurt?
We're here to help you make non-dairy yogurt as good as your favorite expensive brand from the supermarket.
Each pack comes with a yogurt-making recipe guide
Watch our videos above for how to use this plant-based starter
Read our

 

blogs on yogurt making

 

- from temperatures to techniques
Email us your questions - we're always happy to talk yogurt making
 What equipment?
To make vegan yogurt at home, we recommend the following yoghurt making equipment:
A

 

Kitchen Thermometer

 

is essential for making consistent yogurt
A Yogurt Maker. We recommend the

 

Stainless Steel Yogurt Maker  
Cotton Cheesecloth

 

for straining Greek Yogurt. 
What plant milks to use?
This yoghurt starter culture works with a range of plant-based milk to make:
coconut milk yogurt
almond milk yogurt
soy yogurt
oat milk yogurt
cashew yogurt 
The recipes share what to look for when buying plant milk for yogurt and how to make dairy free milk from scratch at home. 
Ingredients
Organic Rice Starch
Agar
Streptococcus thermophilus
Lactobacillus acidophilus
Lactobacillus delbrueckii subsp. bulgaricus
Bifidobacterium
Allergens & storage
No allergens - 100% dairy-free starter culture
Store in the freezer
Shelf life 8-12 months
Because this starter culture is made fresh here in NZ, each batch has a long shelf life. When you receive them, store them in the freezer.
Reviews
Great service, yet to use it
Will be ordering some other product
Plant based yoghurt
Yoghurt was really runny - worked through a solution with Country Trading to fit my needs - great people to deal with.
Plant based coconut yogurt
Service was great, have not made yogurt yet but looking forward to the experience.
Thick and creamy coconut
Yum yum plant base coconut yogurt.