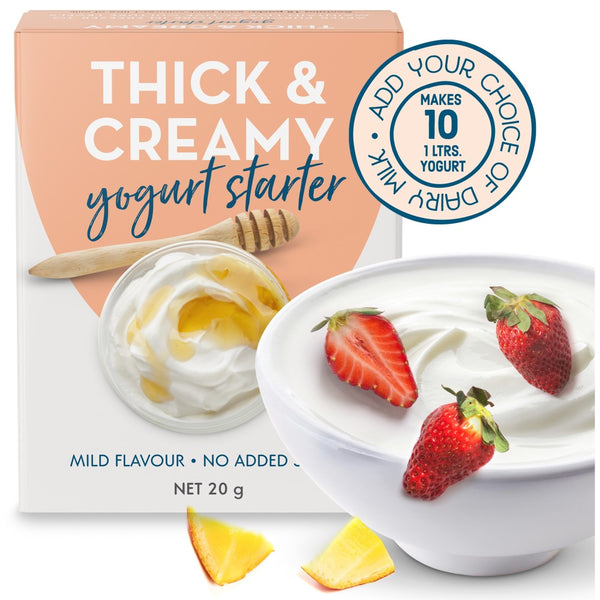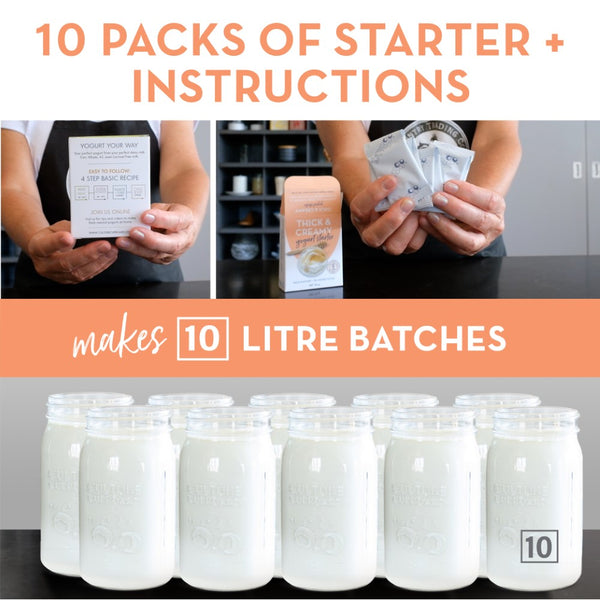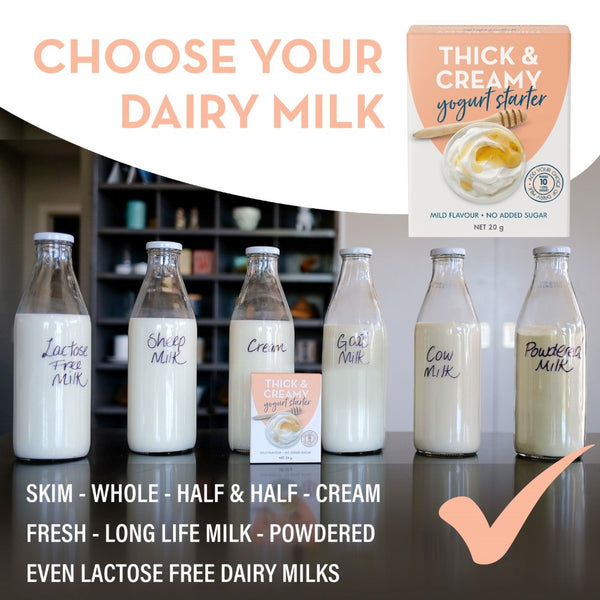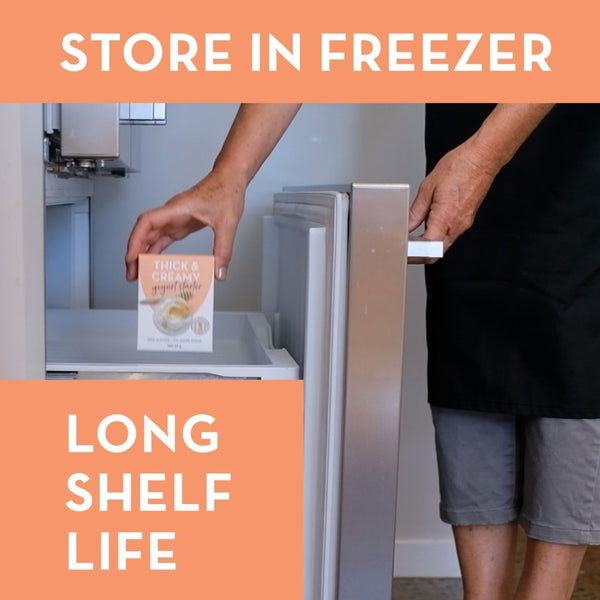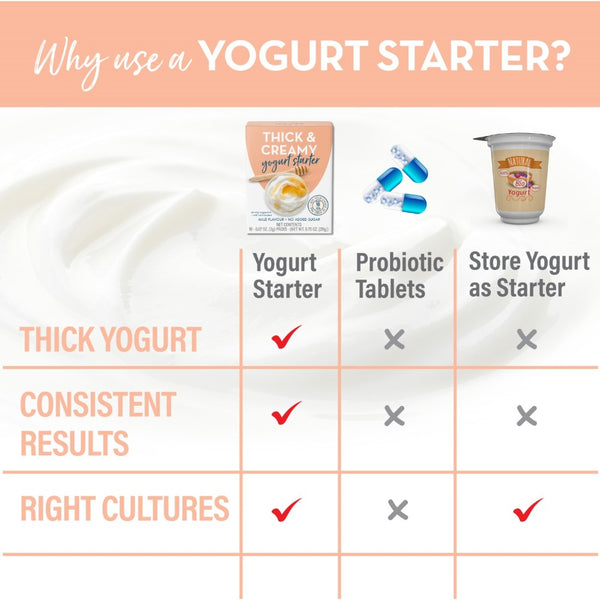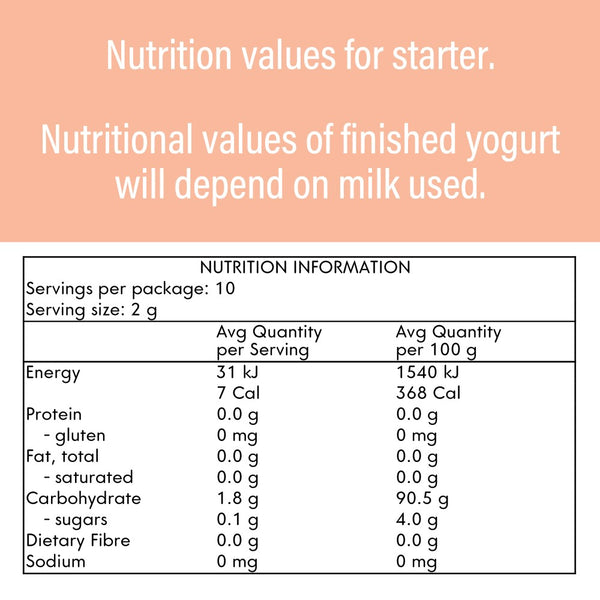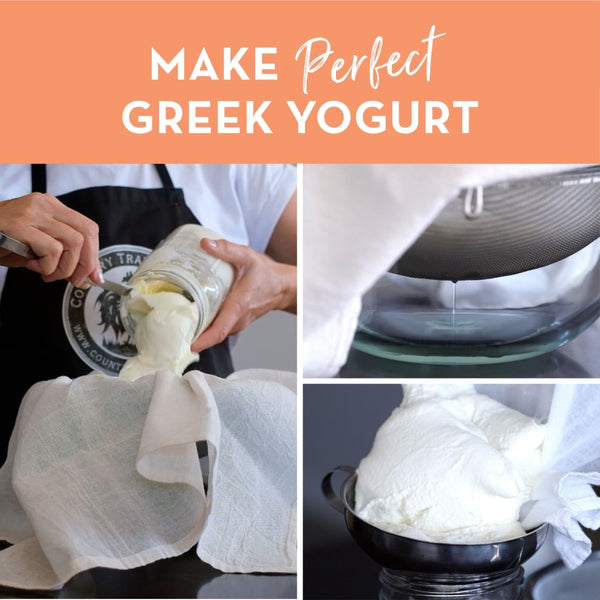 Thick & Creamy Yogurt Starter Culture - 10 Litres
This yoghurt culture is the one for those who like a seriously thick, mild flavoured yogurt. Perfect for smoothies, dips, cooking, and creamy breakfast pots.  

THIS YOGURT CULTURE CONTAINS:
10 sachets of starter culture - each makes 1 litre of thick plain yoghurt
live strains of traditional yoghurt culture bacteria, including Bulgarian
easy instructions for making yogurt
MADE IN NZ
Culture Cupboard starters are made in NZ in small batches for maximum freshness. You'll notice the difference in results using fresh yogurt cultures.
BUY MORE AND SAVE
We offer this yogurt starter culture in a 20-litre twin pack.  It has a long shelf life and is more economic to buy click here. 
HOW TO MAKE YOGHURT
We're here to help you make perfect yogurt in your kitchen. 
Follow our 4 easy steps on the back of the box
Watch our videos above on how to make yogurt with this starter
Read our

 

blogs on yogurt making

 

- from temperature to techniques
Email us your questions - we're always happy to help
WHAT MILK TO USE?
Choose the milk that suits you. We're all different, and this starter culture works with a wide range of dairy milk including:

Lactose-Free dairy milk
A2 milk
Trim and Calci-Trim
Blue top - homogenised milk
Whole milk and even cream
Raw milk, Cow, goat, sheep milk
It even works with UHT and powdered milk
To make dairy-free yogurts choose our Plant-Based Yogurt Starter
To make a tangy flavoured dairy yogurt choose our Probiotic Yogurt Starter
WHAT EQUIPMENT?
A

 

Kitchen Thermometer

 

is essential for making consistent yogurt
A Yogurt Maker. We recommend the

 

Stainless Steel Yogurt Maker  
Cotton Cheesecloth

 

for straining Greek Yogurt. 
DO YOU SAVE MONEY?

We often get asked - is making yogurt at home cheaper than buying it? This yogurt starter culture and good milk will give you a making cost of around $4.40 per kilo. 
Store-bought yogurts range from $5.50 to a whopping $16.00 per kilo. So yes it is worth making your own - plus you control the ingredients and remove large plastic yogurt pots from your weekly waste.
INGREDIENTS
GMO-free Maltodextrin
Streptococcus Thermophilus,
Lactobacillus Delbrueckii Subsp. Bulgaricus
ALLERGENS & STORAGE
Allergen: Milk
Store in the freezer
Shelf life 8-10 months
Reviews
Great service
Prompt delivery. I purchased the Thick and Creamy yoghurt starter culture. After a couple of failed attempts (using our plastic yoghurt maker), I went back on to your site and found the blog on how to make the yoghurt with the plastic containers. Made it as directed and the yoghurt turned out perfectly. 😋 Very happy with the product 😊.
Prompt delivery
Great service and prompt delivery. Purchased thick and creamy plus pro biotic and have been using them successfully for over a year now. Never buy yoghurt from supermarket any more. Great using glass containers and not having to dispose of plastic containers anymore.
No more plastic yogurt pots
I have been making my own yogurt for a while but have always had to buy commercial yogurt to get the 'starter'. Now I can do away with all those plastic yogurt pots with your wonderful product. Makes a great smoothie base and a good excuse to use up all those frozen berries from last Summer's harvest.
'
'
Love this product
These are the only products that I now use for making my yogurt
Easy to use and produce great results
Speedy delivery too
Thick & Cteamy Yoghurt
I love that I can control the sweetness.. Not to sour... Not to sweet.. Just right 👌...
Delishemo 😋 😋