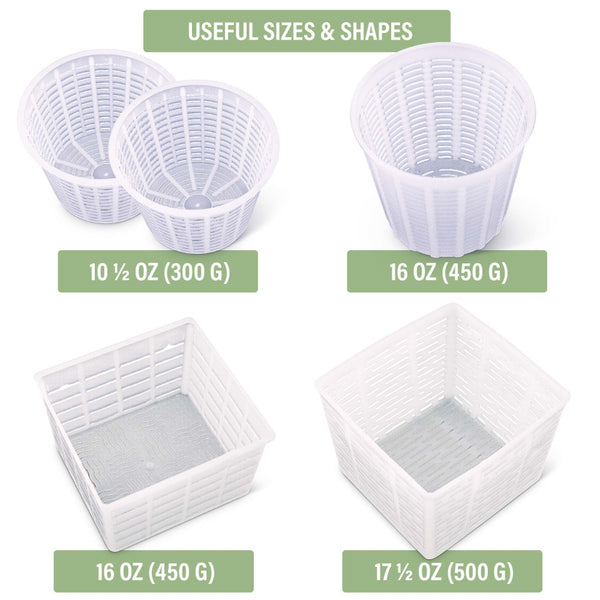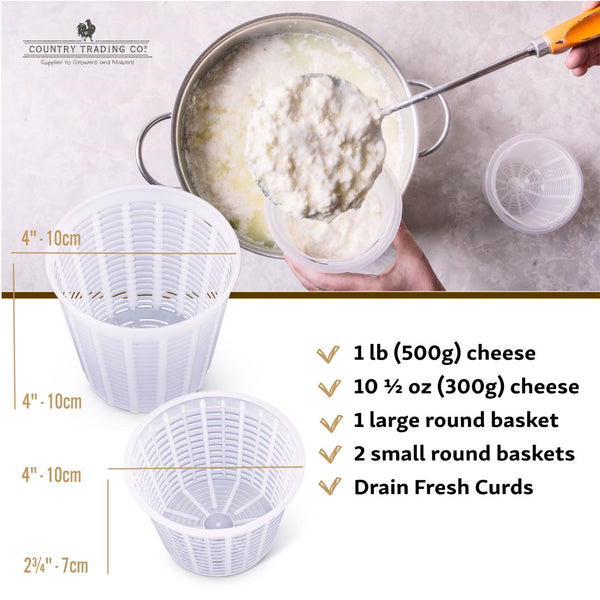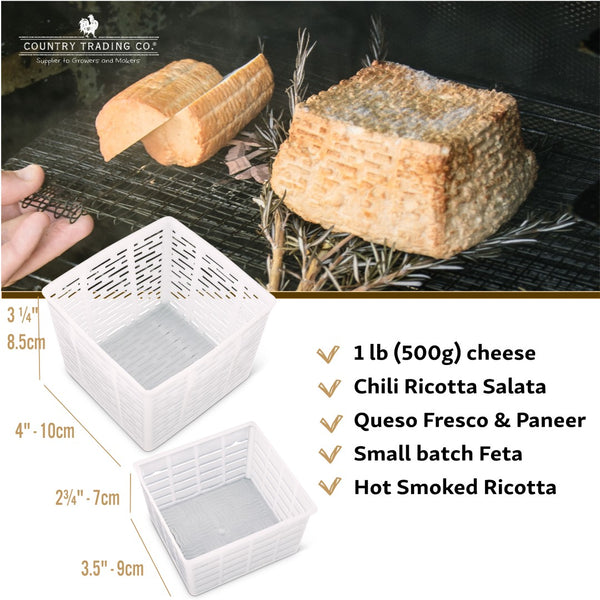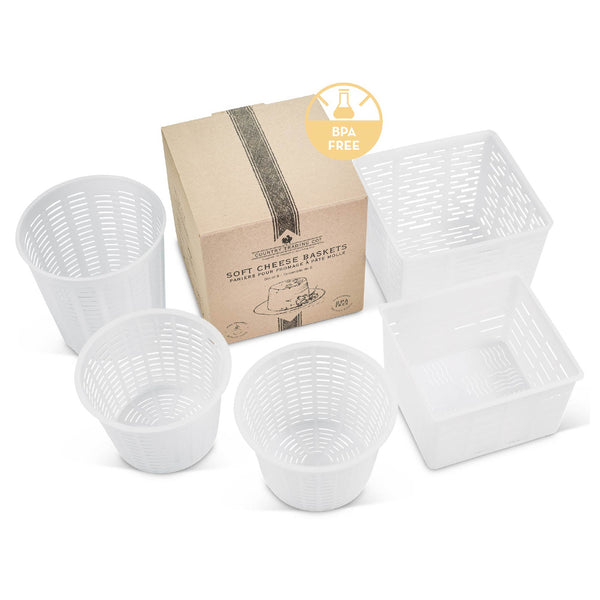 Cheese Moulds for Cheese Making - Set of 5 - Made in Italy
Designed for fast and even draining of curds, this set of 5 cheese moulds cover all the sizes you need to make fresh cheeses at home.
Perfect for use as:
Ricotta Mould
Goats Cheese Moulds
Cottage Cheese Moulds
Feta and Paneer Cheese Mould
We also use them lined with cheesecloth for draining finer curds such as cream cheese and mascarpone.
Made in Italy, BPA free and dishwasher safe, they make the perfect cheesemaking gift for beginners and experts alike.

Product Specifications:
- 2 small round cheese moulds - 300g

- 1 large round cheese mould - 450g
- 1 medium square cheese mould - 450g
- 1 large square cheese mould - 500g
Why we made this
When we made ricotta we always had too many curds and not enough cheese molds. This set of cheese draining moulds gives you a variety of cheese form shapes and sizes, so you can drain, and set an assortment of cheeses at once.
Now, we know what you're thinking: Is plastic the best option? Rest assured, we tried every DIY cheese mold alternative, and they were impossible to sterilise.
These BPA-free plastic fresh cheese molds are dishwasher safe and food grade.
Learn More
If you're new to cheesemaking, we're here to help. You'll find useful cheesemaking supplies on our website, including a dairy thermometer and our reusable organic ultra-fine cheesecloth to drain finer cheese curds.
Add our book, "How to Make Soft Cheese", to your order for recipes to make the most popular fresh cheeses. Here's our fast and easy Ricotta Cheese recipe from the book:
Reviews
New to cheese making
Bought these for a gift - hubby likes to cook. He's really happy with the product and getting ready to make his first cheese at home.
Cheese making kit
I already had the yogurt maker kit bought last year and it was absolutely brilliant, the most beautiful yogurt ever and so easy to make, so I bought cheese making kit with the book. Amazing !!!! Clear instructions and wonderful results for cottage cheese.
Nice mould, great service and fast shipping. Highly recommend this store
Very happy with these moulds and the service received. Novice at cheese making.
Just as in the picture, super fast postage. Recommend.