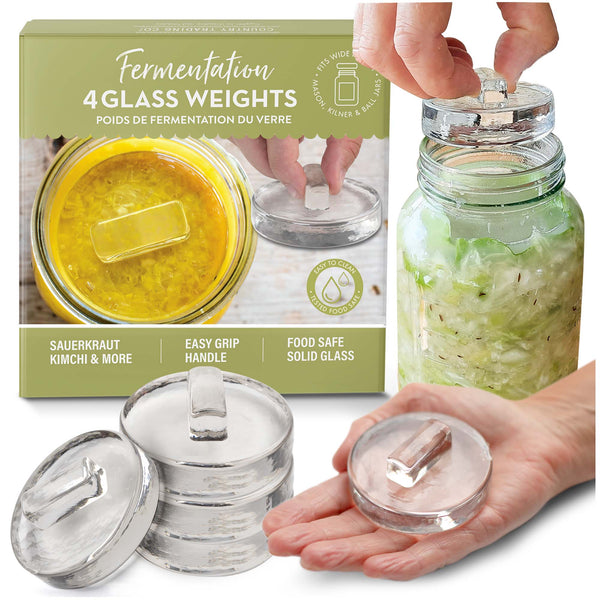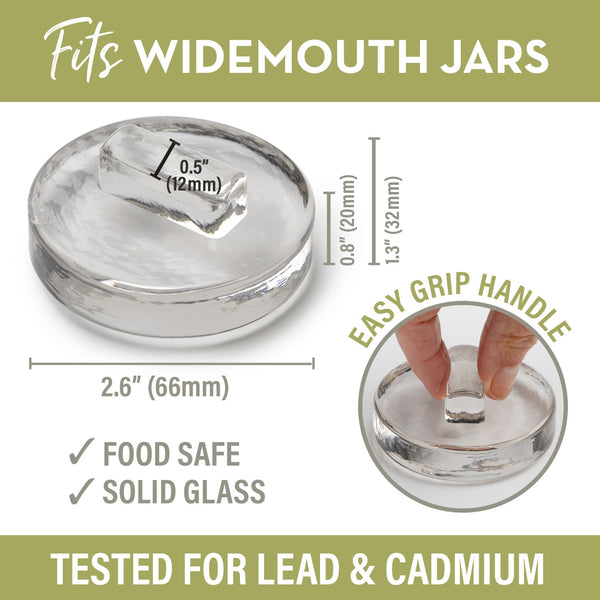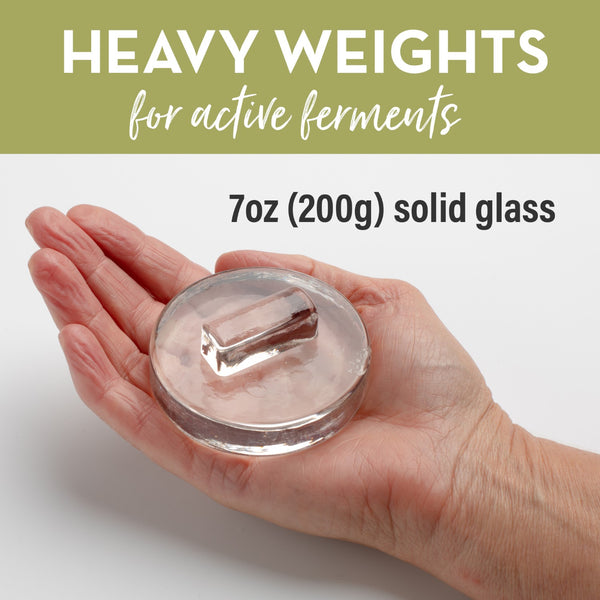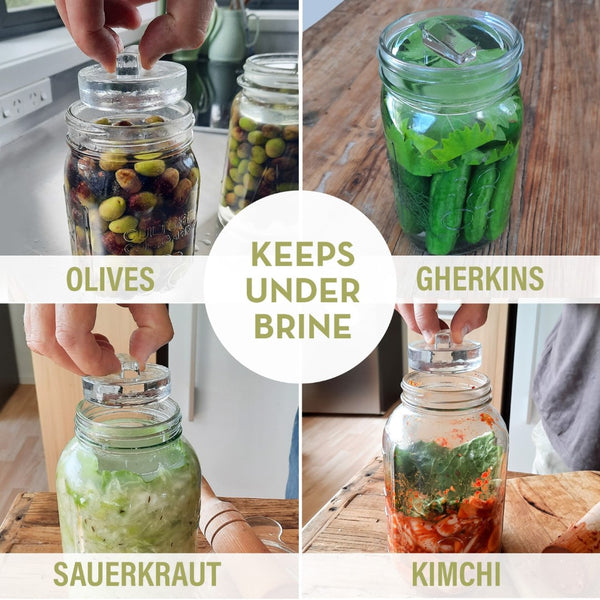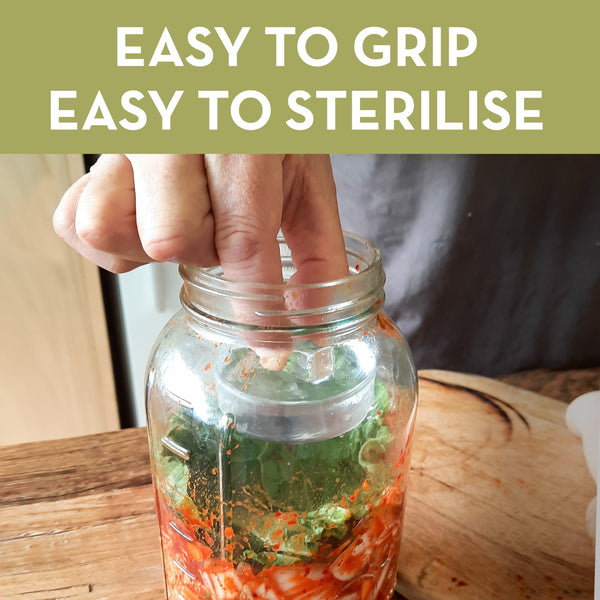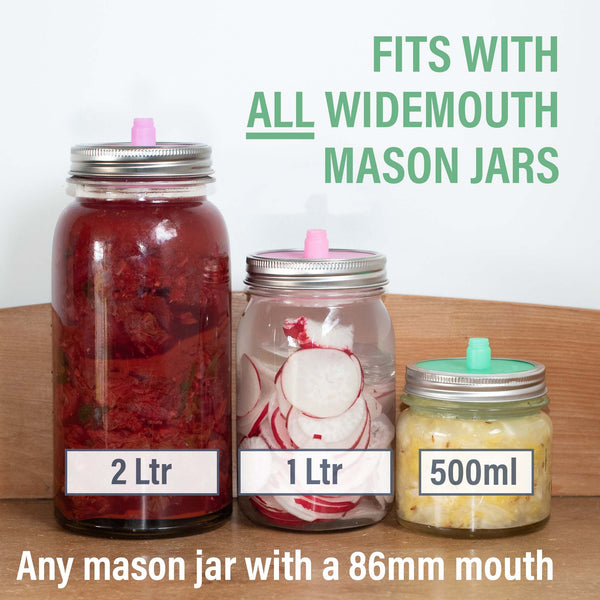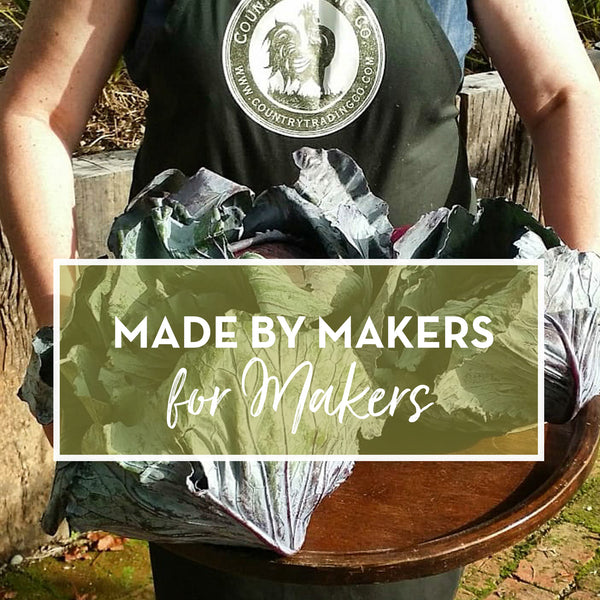 Glass Fermentation Weights for Vegetable Pickles - Set of 4
Regular price
$31.99
Sale price
$34.90
Cleanliness matters when fermenting food at home. We use these fermenting weights in our own ferments because:
The heavy glass pickle weights are easy to sterilise 
They keep vegetable ferments safely under the brine
They stop spoilage microbes on your hands from getting into the pickles
The handles make them easy to retrieve from the jar
They fit all wide mouth mason jars
Food safety also matters so we laboratory test these pickle stones to ensure they are free from lead and heavy metals and safe to use in your sauerkraut and kimchi.
We package them in a plastic-free gift box that also makes an ideal kitchen storage solution to keep your weights together.
Team up these weights with our Sauerkraut Pounder and Fermentation Lids to make a great gift set for cooks.
Specifications
4 weights per pack
each weight weighs 200g (7oz)
diameter 66mm (2.6")
total depth including handle 32mm (1.3")
depth of glass base 20mm (0.8")
plastic-free packaging
tested for lead and cadmium
dishwasher safe
How to Use
sterilise your fermentation weight in the dishwasher or hot water

pack pickles or sauerkraut into a clean mason jar, stamp down tightly with a pounder and leave room for expansion as the ferment progresses
place a follower over the ferment to sit the glass weight on (we use a clean piece of cabbage cut into a circle or a grape leaf)
sit the glass fermentation weight on top of the follower
fit a fermentation airlock lid
Reviews
GLASS FERMENTATION WEIGHTS FOR VEGETABLE PICKLES - SET OF 4
Received my glass fermentation weights, well packaged. Delivered very quickly. Very happy with my purchase
Glass weights great to use
Been using for sauerkraut last few weeks and has worked really well. Keeps it down, so long as you have an outside leaf of cabbage as a stopper underneath as most recipes do. Easy to clean and hygienic. Really happy.
Fermenting Weights
They work really well & good price.
Glass Weights
should have bought some years ago!!
Can't review my purchase really yet
I ordered fermentation glass weights and a wooden stomper, they came within days of ordering, great so far.
Reviewing the actual product a few days after purchasing , not sure about this. It takes weeks before the sauerkraut will be ready and to see if the weights can hold the bubbly stuff down in the brine.
The wooden stomper works great but with all wooden products coming from outside NZ, I would have liked some information about the timber and it's origin. If it doesn't say what is is it is probably some illegal tropical timber from Myanmar or somewhere in the region, so it would be great to have more information here…
Just reading some other comments below so my add my 2cents here:
"Himalayan salt brine" is a waste of money, it's basically the same salt as any sea salt, but transported all the way from Pakistan , and it comes with no proven health benefits (it's salt) other than placebo. Not sure it it affects the colour of the fermented product as I use red cabbages and carrots anyway…
Just saying