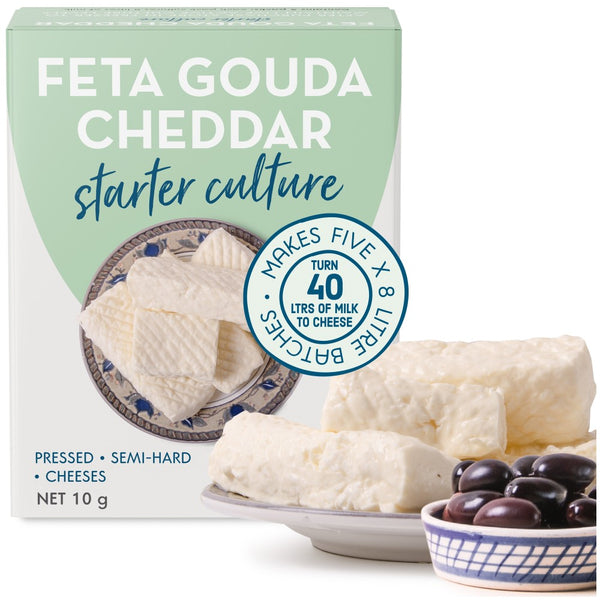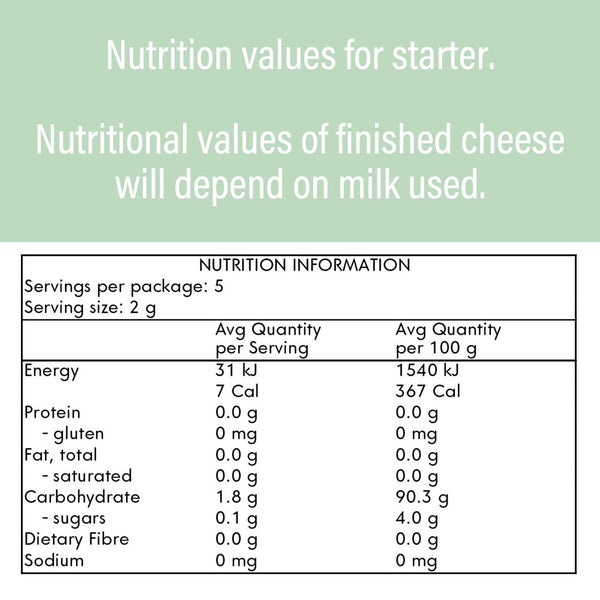 Cheese Starter Culture for Making Cheddar, Edam, Gouda & Feta
This mesophilic cheese starter culture includes a blend of lactic bacteria specially selected for the production of cheeses such as Cheddar, Colby, Jack, Feta, and Dutch cheeses such as Gouda and Edam. 
It is a low gas-producing cheese culture that creates a smooth, consistent texture in the finished cheese and rounded flavour profile that sharpens with age. 
The Culture Cupboard® pack of 5 starter culture sachets for Cheddar, Gouda, Edam and Feta can be used for any low-temperature semi-hard cheese requiring a smooth, consistent paste. 
Each pack culture 8-10 litres (8-10 quarts) of milk which yields a finished cheese of approximately 1 kilogram - a good size for the home cheesemaker.
INGREDIENTS
GMO-free Maltodextrin,
Lactococcus lactis subsp. cremoris,
Lactococcus lactis subsp. lactis
ALLERGENS & STORAGE
Allergen: Milk
Store in the freezer
Shelf life 8-10 months
COO: Made in NZ from imported ingredients
Reviews
Yeah...Nah
This culture makes a fabulous cheddar, simple to use, however my two attempts at making Gouda with this culture have been disappointing...'late blowing' being the issue, although it may be the recipe I use. Not sure....
Cultures
Fast delivery, well packaged and have tried 2 already happy with all
Great product, nice package, too large for content, can store 3 in 1.
Content should be labelled.
A lot of room for improvement in saving the amount of waste cardbox.
Perfect results
Out of all the cultures this is the one I use the most. Great flavour.
I'm rural and delivery is super fast
great flavour
Great flavour and prompt delivery every time!