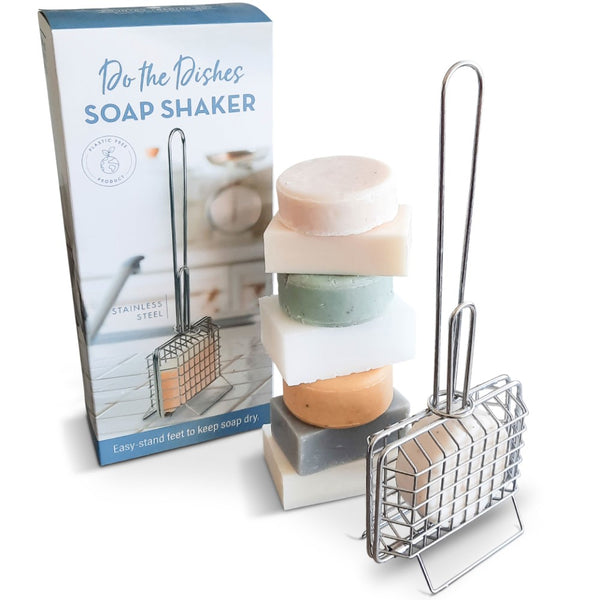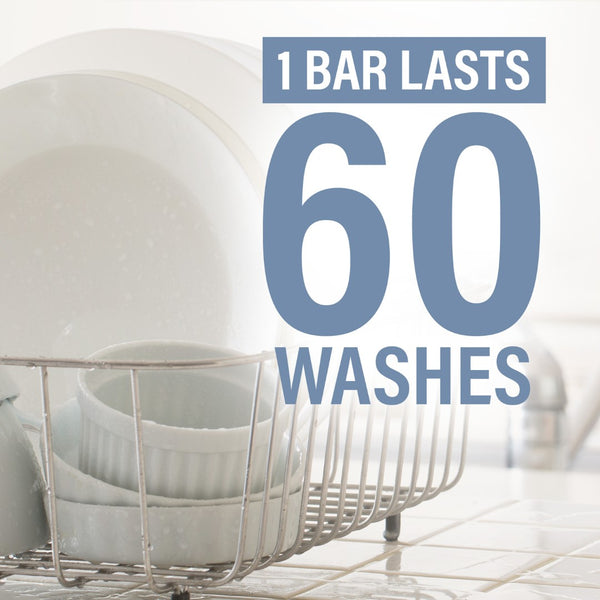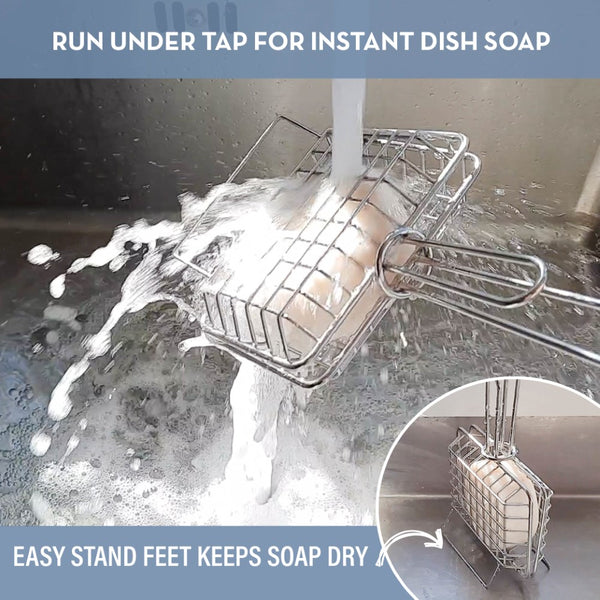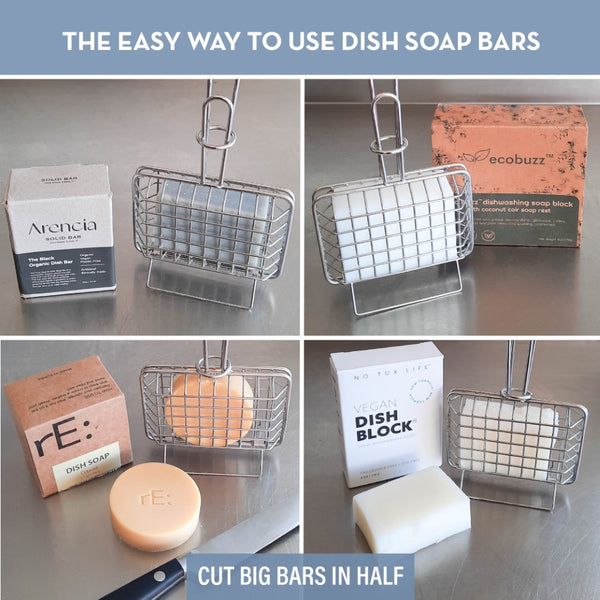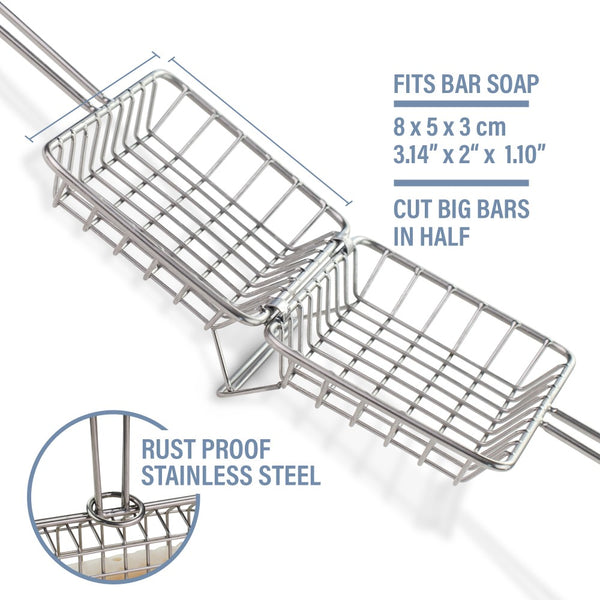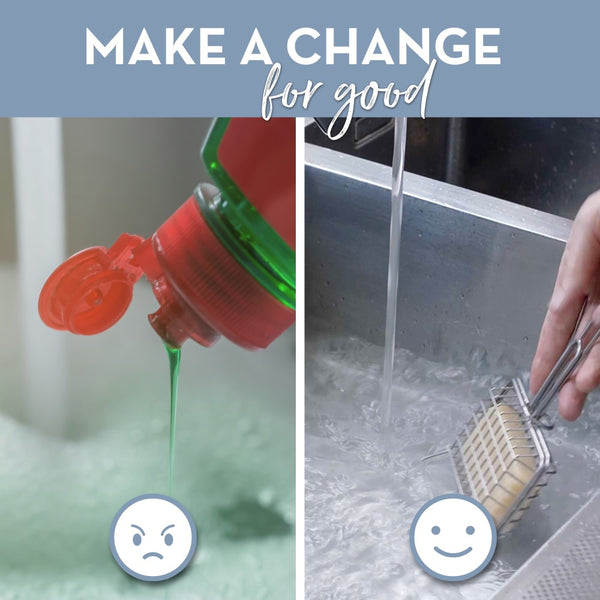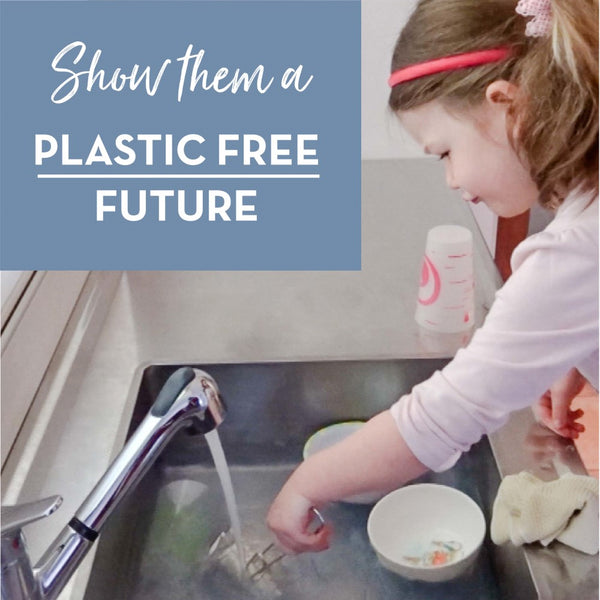 The Easy Drain Soap Shaker - Stainless Steel Soap Cage
We wanted to do the right thing and stop using single-use plastic dishwashing liquid bottles but were frustrated by mushy bars of soap.
So we added a new twist to an old design to keep our dish soap block dry with this self-draining upright soap cage for solid dishwashing bar soap.
Our unique upright soap shaker design:
takes up less space on your bench
drains freely, drying your dish soap and avoiding mushy soap
saves money, making your dish wash bar go further
With this simple stainless steel soap cage for bar dishwashing soap, save money and hit your zero waste goals.
This soap shaker works with your choice of dish soap bar. If bars are too large, they can be easily cut in half. The soap shaker does not include soap.
For use with our triple milled Dish Soap - one bar of our dish soap lasts for up to 60 washes. 

How to Use a Soap Shaker

Use your soap shaker by swishing it briefly in very hot water or pour a kettle of hot water over it to generate your suds. A little goes a long way. However, for best results, don't overdo the soap.

Note: The best dish soap bars will not form as many bubbles as your old plastic bottle of liquid dishwashing soap. That doesn't mean they are less effective at cleaning dishes; they simply don't have the chemicals in them that make all those bubbles (this is a good thing).
Reviews
Cleaning fun
This was my first time using soap for dishes - the shaker made it a lot easier, cleaner and more fun. I also liked that it was so easy to set up and use.
Very happy
Does a great job and very easy to use
Back to the future
Love this I can remember using this as a child
Bach essential
This nostalgic soap shaker is the second one we've purchased. This latest purchase was a gift for a friend's family bach in a remote area. It's the perfect back-up for when dishwashing supplies have unexpectedly run out and to have in your civil defence toolbox. We like the way the soap shaker can stand and drain/dry between uses.
Great to minimise plastic waste
Love it, simple to use :D