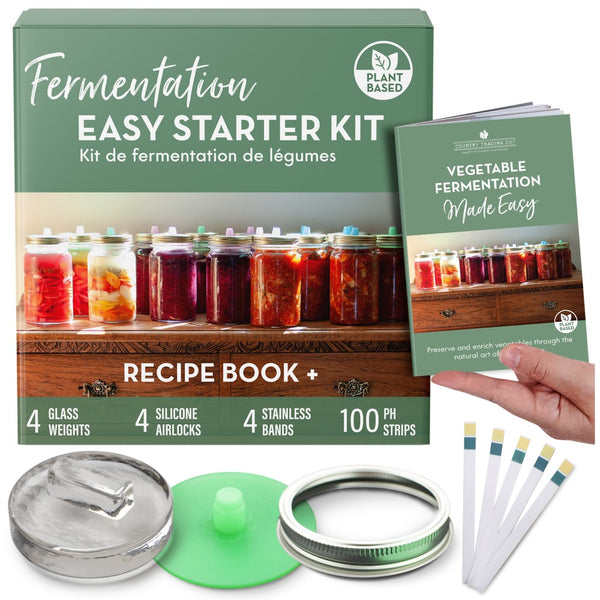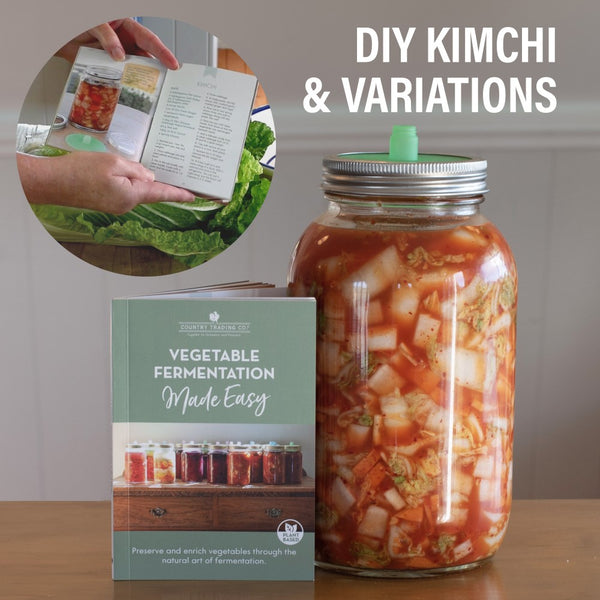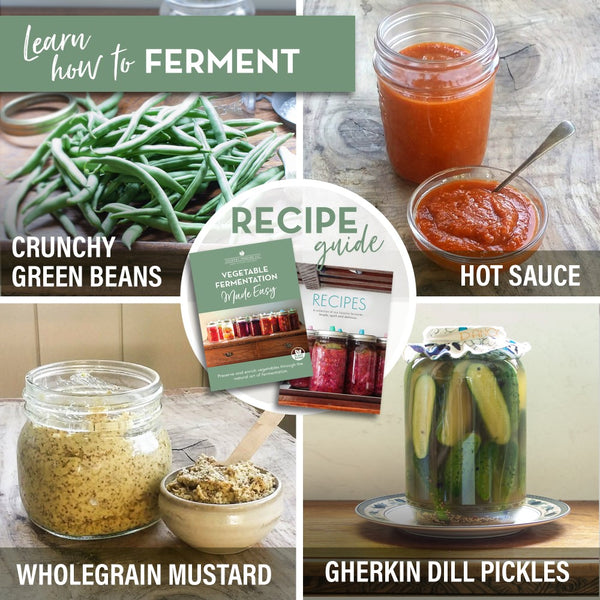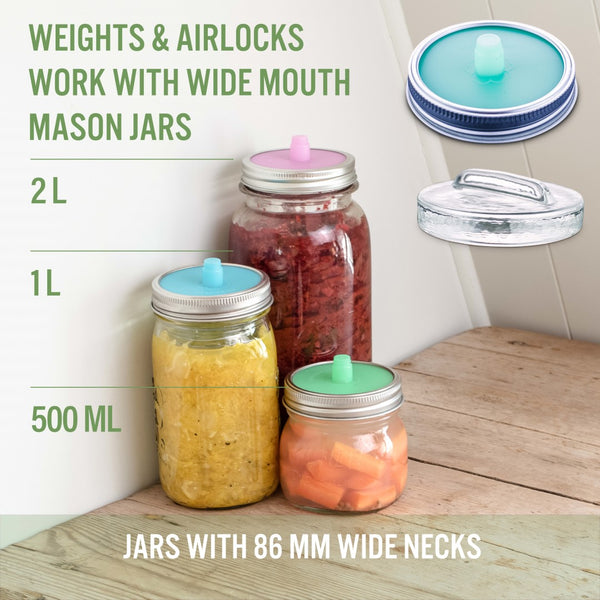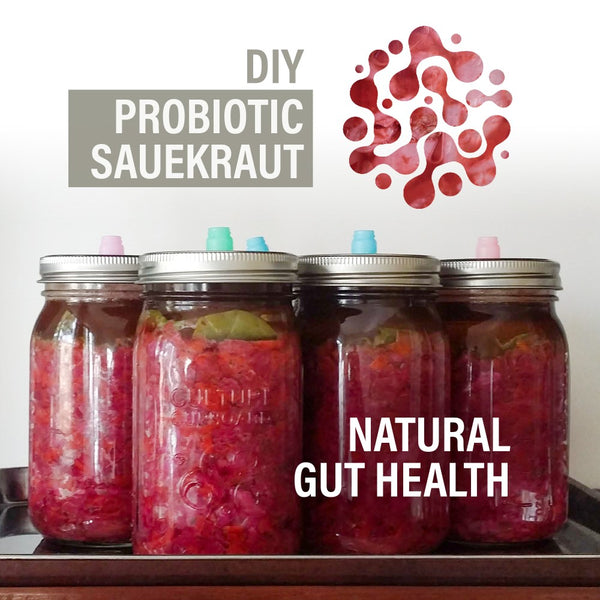 Vegetable Fermentation Kit - Easy Starter Set for Sauerkraut & More
Want to make fermented foods like Sauerkraut and Kimchi but are a bit unsure? Our vegetable fermentation kit is perfect for those looking to learn to make homemade naturally fermented pickles – safely and cost-effectively.

The Easy Fermentation Starter Kit Contains:
4 Glass Fermentation Weights
4 Airlock Fermentation Lids
4 Stainless Steel Bands
100 pH Strips
42 Page complete colour recipe book
The lids and weights work with a wide range of wide-mouth mason jars. We sell 1-litre and 2-litre jars. Choose your jars and make small to large batches of your favourite fermented pickles.
What recipes are in the kit?
Our fermentation kit recipe book has a list of fermented food recipes for making naturally pickled foods, including:
Fiery Fermented Hot Sauce
Fermented Mustard
Easy Kimchi Recipe and variations
Gochujang kimchi sauce

Traditional Sauerkraut Recipe
Red Cabbage Sauerkraut
Carrot and Cauliflower Pickles
Fermented green beans
Fermented cucumber dill pickles
The Vegetable Fermentation recipe book in the kit also includes a chapter on equipment for fermentation explaining anaerobic fermentation airlock lids, sauerkraut jars as fermentation crocks, and glass fermenting weights.

Fermented foods for gut health like homemade Kimchi and Sauerkraut are good for you. Making Kimchi and Sauerkraut using lactic acid fermentation to ferment cabbage is a simple and natural food preservation technique (and it tastes great, too!).
What Jars do The Fermentation Lids Fit?
There are many types of glass jars used for preserving and food storage.
These fermentation airlock lids fit:
wide mouth mason jars which have an 86 mm wide opening
brands include Ball, Kilner, AGEE

 

SPECIAL, Bortoli
sizes include 250ml, 500ml, 1 litre, and 2 litre 
These lids do not fit:
regular mouth mason jars which have a smaller opening
AGEE

 

Utility

 

and AGEE

 

Improved Utility

 

jars which have a non-standard thread unique to NZ
NOTE: They will fit AGEE Utility jars if you use a green preserving band that fits the AGEE Utility thread.
Reviews
Fermentation kit
Haven't used yet but looks to be good quality products and shipping was fast
Still waiting.
Sent the incorrect item and still awaiting the correct one.
Really good product
We were so happy with our initial purchase we promply ordered another one...looking forward to exploring its full potential with lots of different ferments..all good so far...prompt service and very fast safe delivery..couldn't ask for more ..thanks so much
Great purchase!!
The kit arrived in excellent time, and am so far having great success with the booklet instructions and the items used to prepare fermented beans and sauerkraut. I am really pleased with this kit.