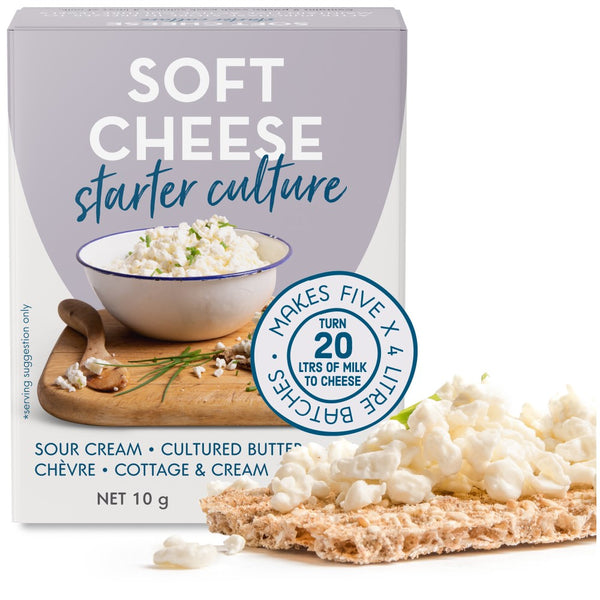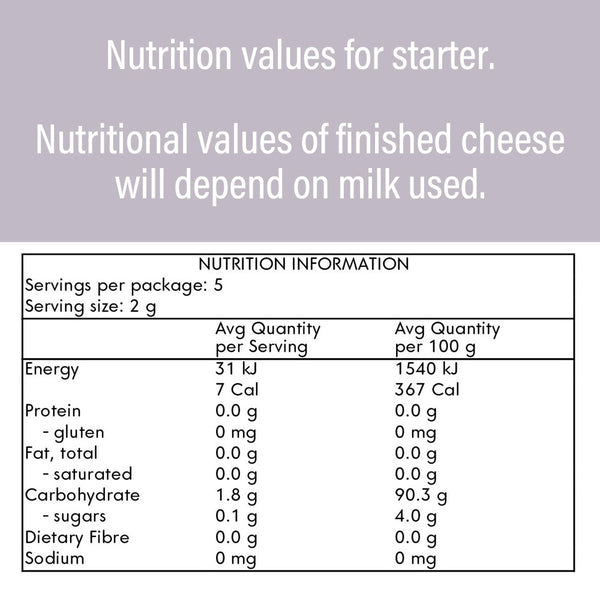 Cheese Starter Culture for Fresh Soft Cheeses
The family of soft cheeses are some the easiest and most often made of all home dairy. Ready to eat quickly and using small quantities of milk they make a perfect place to start your home cheese making journey.
The Culture Cupboard® five-pack of Soft Cheese culture contains 5 sachets, each makes 4 litres (4 quarts) of milk into a wide range of soft cheeses. We use this culture for everything from Feta to Cream Cheese and Cultured Butter.
To drain your soft cheeses, we recommend our Easy Cheese Making Set. 
INGREDIENTS
GMO free Maltodextrin,
Lactococcus lactis subsp. cremoris,
Leuconostoc,
Lactococcus lactis subsp. lactis,
Lactococcus lactis subsp. lactis biovar diacetylactis.
ALLERGENS & STORAGE
Allergen: Milk
Store in the freezer
Shelf life 8-10 months
Storage: Freezer
Allergen: Milk
COO: Made in NZ from imported ingredients
Reviews
Soft goats cheese
Made soft goats cheese, was so so good
Cottage Cheese Delight
Okay, beginner here again. I made cottage cheese and used the soft cheese starter; what a breeze to use. It does exactly what it says, even when I thought it wouldn't do it within the 12 hours as I was nervous about the heat and humidity here. High-five Country Trading : )
Sour cream so good
The sour cream was so nice, easy to make too although couldn't get to temp in double boiler
soft cheese starter
We are very happy with this product. We have tried lots of different starters and recipes for making cream cheese and haven't found any thing that has given us the end results we want till we bought this product. So thanks a lot. Its amazing.
Recommended
Great culture. Works well. Made my first chevre and love it. Will definitely be supporting again