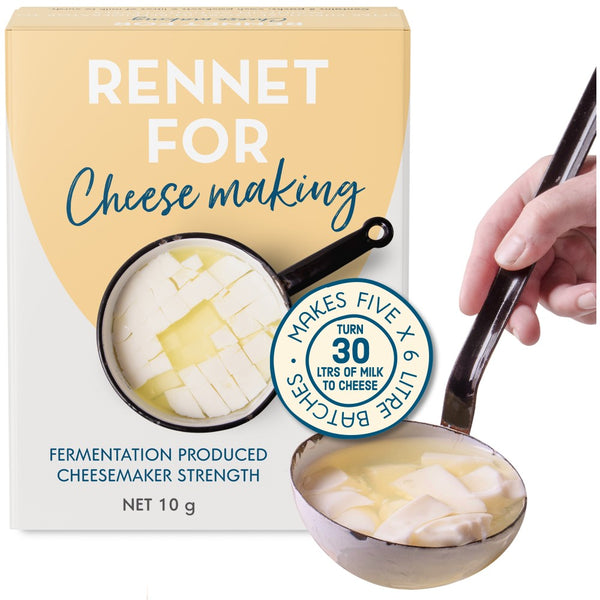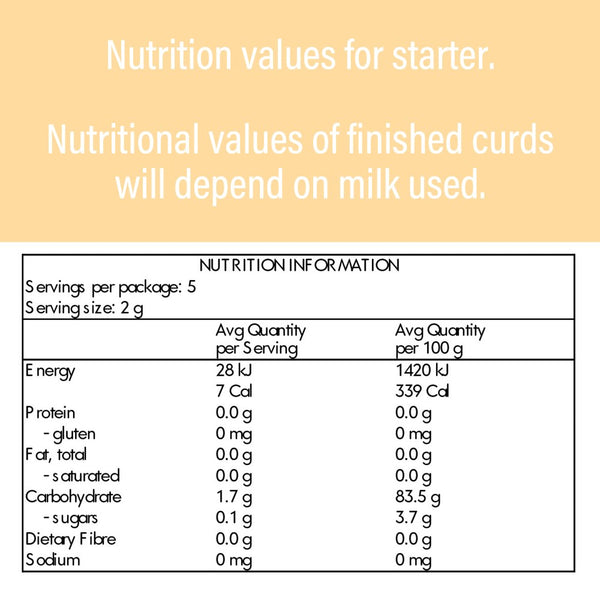 Strong Vegetable Rennet for Cheesemaking
The Culture Cupboard® five-pack of Vegetarian Rennet contains five sachets; each makes 6 litres (6 quarts) of milk into a wide range of soft and hard cheeses.  We use this rennet because it creates no bitterness in the finished cheese and it is also the rennet of choice for several of our favourite artisan cheesemakers.
Dissolve this strong vegetarian Rennet in cold, unchlorinated water and add to milk to coagulate it into firm curds, according to your recipe.  For recipes see our "How To Make" range of cheesemaking recipe books.
Ingredients: GMO-free Maltodextrin, Vegetarian Rennet (fermentation produced milk clotting enzyme).

Net WT: 10 g (0.35 oz)
Contains: 5 Packs
Cultures: Each pack coagulates up to 6 litres (6 quarts) of milk
Storage: Refrigerator
COO: Made in NZ from imported ingredients
Reviews
Excellent
Arrived in super fast time, and is great quality product.
well satisfied
Great product and extremely fast delivery time, thanks there will definately be a next time.
Newbie at Cheese Making: Using Rennet
Total beginner here; I found it to be great, helped set my milk for Quark which has been a tough one considering how humid and hot it is here in the Far North. Very helpful and recommend - keen to try other recipes now! Thank you, Country Trading : )
Cultures and rennet
My cheeses have been quite a success using the cultures and rennet on offer from Country Trading Co.
And i wont be changing this winning formula.
Many Thanks