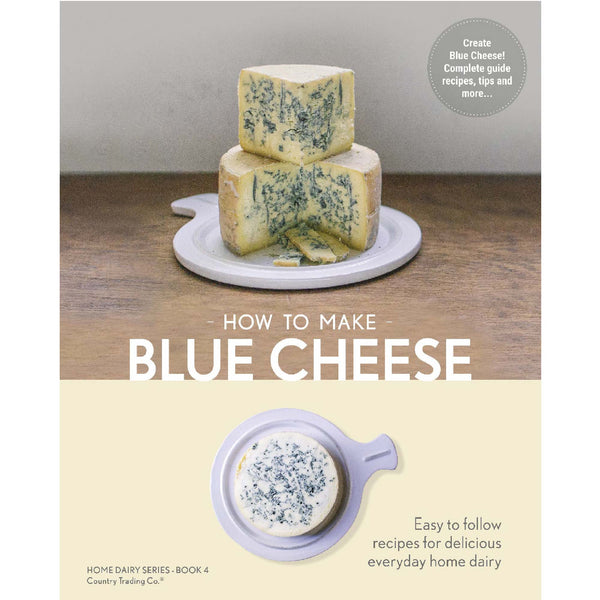 Home Dairy Vol. 4 - How to Make Blue Cheese
Making blue cheese at home is the peak of most home cheesemakers aspirations. Creating a stunning Stilton or Gorgonzola-style cheese in your own kitchen is not only very satisfying but also delicious. 

Our recipe book, "How to Make Blue Cheese", lifts the lid on all the secrets and tips for making and maturing great blue cheeses in your own kitchen. Create creamy rich soft blue cheeses in the Danish style and firm buttery flavoured Stilton style blue cheeses.

Learn about the great blue cheeses and how they're made. We've included information on the moulds, cultures, and equipment together with the methods and recipes that we have perfected over the years. We've even included serving suggestions and recipes for cooking with blue cheese.
Buy this book as part of the complete Collectors Set of Home Dairy and save.
Why we wrote this book
This book was the hardest cheesemaking book in our series to write.  It took a lot of failed attempts to crack the blue cheesemaking code.
After several years of trials and research, we were satisfied with our methods and recipes for making blue cheese and we're thrilled to share them with you.
This little book makes a perfect gift together with our Blue Cheese Moulds, Blue Cheese Culture, and Cheese Trier. 
Format: Soft Cover | 81 pages

ISBN: 9780992264710
Reviews
Blue cheese book
I've been make Gouda, Camembert and feta for a few years now so now I'm intrigued about blue cheese. I've started reading the book and it makes good reading. I'm looking forward to giving it a go. Thanks for writing the book.
Getting into cheese making
I bought this book as I am wanting to get more into cheese making. I must admitt that I'm not a big fan of blue cheese but I have family members who are so I will give it a go. It looks harder than the camembert and Brie that I am making at the moment. The book explains it well.
Great Book
Love these books, easy to read and follow, thanks
Blue cheesemaking for dummies
Fantastic book Heather, well explained and easy to follow