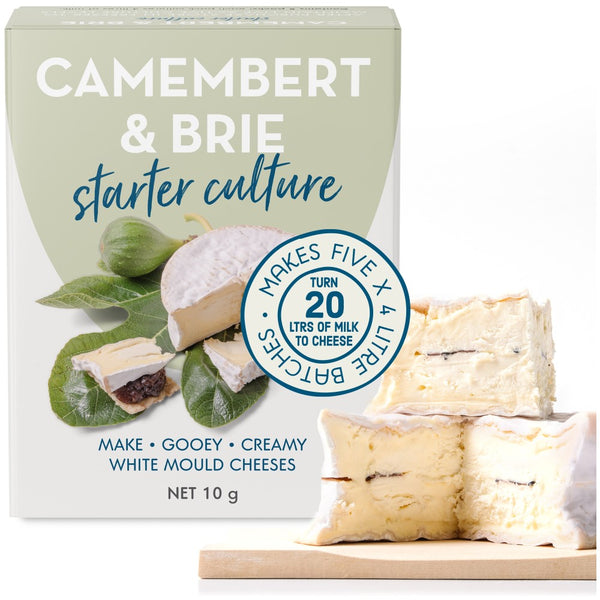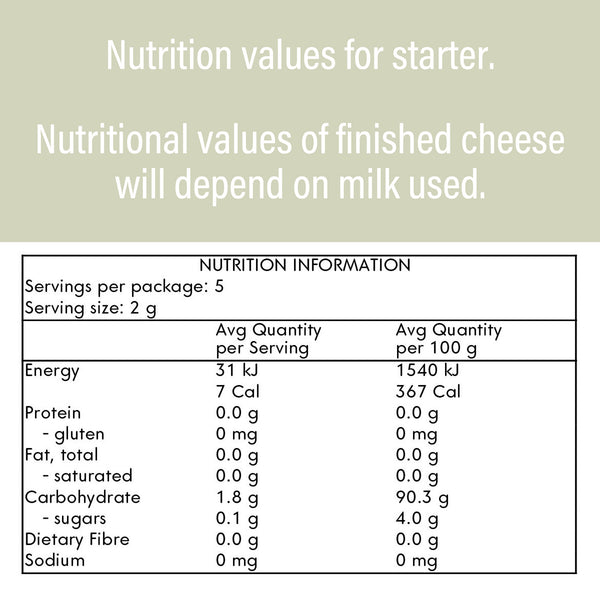 Cheese Starter Culture for Camembert & Brie - White Mould Cheeses
Camembert and Brie make a great introduction to artisan cheese making at home. Using small quantities of milk and short maturing times, you can make beautiful cheeses.

The Culture Cupboard® five-pack of Camembert starter contains 5 sachets, each makes two Camembert with expertly blended cultures and moulds for a traditional cheese.
To make spectacular white mould cheeses, we recommend recipes and methods from our book "How to Make Camembert and Brie." 
INGREDIENTS 
GMO free Maltodextrin,
Lactococcus lactis subsp. cremoris,
Leuconostoc,
Lactococcus lactis subsp. lactis,
Lactococcus lactis subsp. lactis biovar diacetylactis,
Penicillium candidum
ALLERGENS & STORAGE
Allergen: Milk
Store in the freezer
Shelf life 8-10 months
COO: Made in NZ from imported ingredients
Reviews
How to make Camembert book
Excellent book for the small producer of dairy based cheeses. Not suitable for plant based cheeses. Excellent t service from Country Trading Co.
Satisfied
I love buying and using this starter culture it is amazing and works every to time. Produces beautiful fluffy white coating on the cheeses. Would definitely recommend it.
Disappointed
Still waiting for the bloom to appear on my goats cheese. Not sure why its not happening, I have used a different brand in the past with not problem at all and I have been making cheeses for the last 15 years and never had this problem.
no instructions
Product arrived promptly, but I expected instructions with the packet. Unable to find them on the website. I have emailed the company but no reply yet.
Camembert making
Love these, easy packaging. Only brand I use. My go to company for cheese making 'stuff' and assorted other things. Good communication and prompt service.