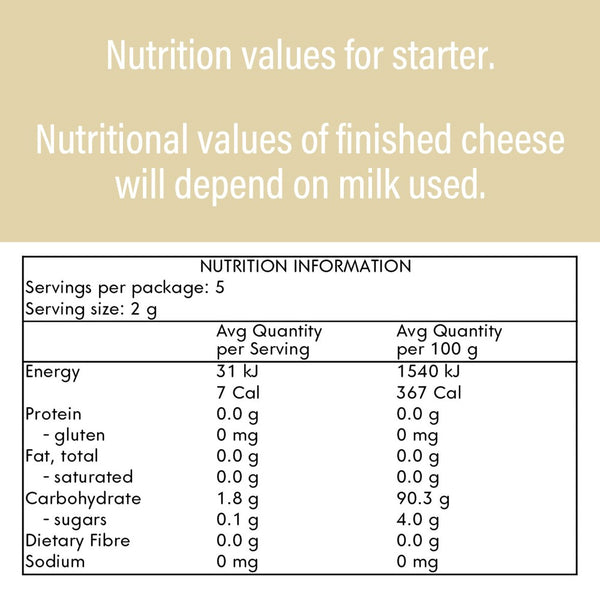 Cheese Starter Culture for Making Parmesan & Mozzarella
This thermophilic cheese starter culture includes a blend of lactic bacteria specially selected for the production of high-heat hard cheeses such as Parmesan, Grana Padano, Pecorino, Asiago, and is also useful for acidifying and adding flavour to mozzarella and pasta filata type cheeses.
It is a low gas-producing cheese culture which creates a dense, consistent texture in the finished cheese and a tangy flavour profile that sharpens with age. 
The Culture Cupboard® pack of 5 starter culture sachets for Parmesan and Mozzarella cheese can also be used for any high-temperature hard cheese requiring a dense, consistent paste and more pronounced flavour than single strain thermophilic culture. 
Each pack culture 10 litres (10 quarts) of milk which yields a finished cheese of approximately 0.8 - 1 kilogram - a good size for the home cheesemaker.
INGREDIENTS
GMO-free Maltodextrin
Lactobacillus delbrueckii subsp. bulgaricus,
Streptococcus thermophilus
 ALLERGENS & STORAGE
Allergen: Milk
Store in the freezer
Shelf life 8-10 months
COO: Made in NZ from imported ingredients
Milk to use: Refer to Recipe.
Reviews
Mozerella and Parmesan
Was excited to receive the package although disappointed that there isn't any instructions with it or on the website, or in the recipe book, tried using it with another recipe and no luck. Flop. So hopefully there could be someone that wouldn't mind sharing their mozerella and Parmesan recipe using this culture, thank you in advance.
Hello Marina. Thank you for your review. Our Cheese Cultures do not come with recipes. We are very happy to share our Mozzarella and Parmesan recipe with you. I will send the recipes to your email address. Best wishes from Country Trading Co.
Good
Arrived in a timely fashion, cheese is in the press, so fingers crossed all goes well.
Culture
Arrived quickly - looking forward to trying burrata recipe I have
Made my mozzarella cheese the other day, used it on pizza following day, great flavour, thanks
Excellent results
I use this culture to make Parmesan and other cheeses that need a thermophilic culture. Always excellent results. My recipe for Parmesan takes 4L of low fat milk and 2L of full cream farm milk. I use one culture packet and get a 600g cheese. Delivery to the North island took less than 24 hours from when I placed the order.