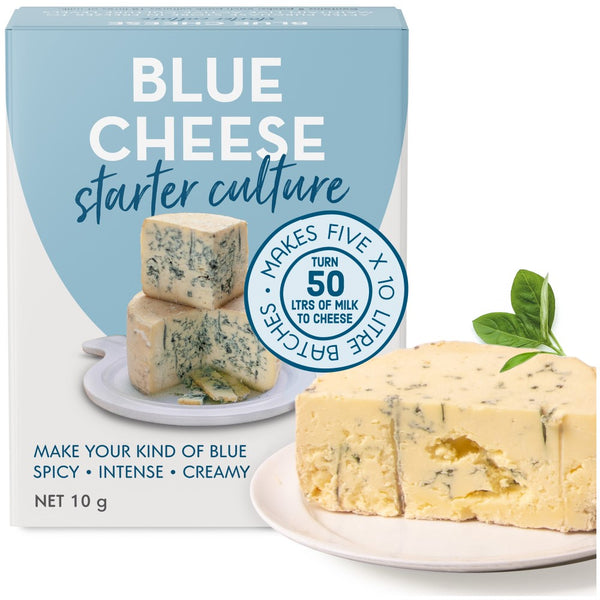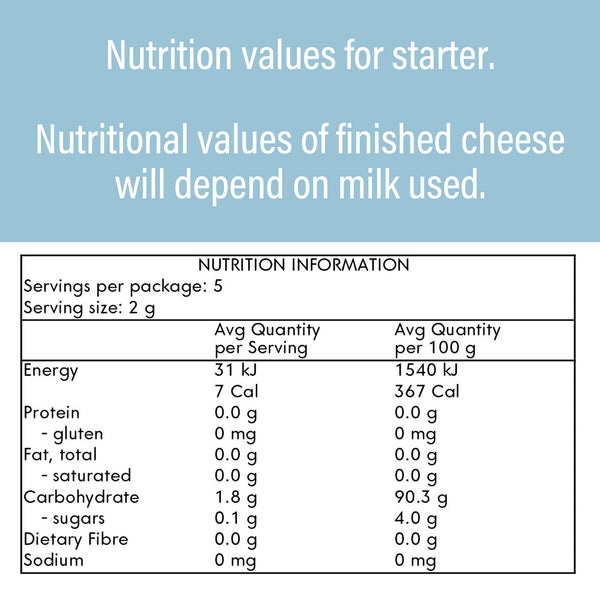 Cheese Starter Culture for Making Blue Cheese - Stilton + Gorgonzola
The Culture Cupboard® five-pack of Blue Cheese starter culture contains 5 sachets, each sachet cultures 10 litres of milk with expertly blended cultures and moulds for a traditional cheese.
Perfect for homemade Stilton, Gorgonzola, and Roqueforti style blue cheese recipes.
For our expert blue cheese recipes and equipment check out our book .
INGREDIENTS

GMO free Maltodextrin,
Lactococcus lactis subsp. cremoris, Leuconostoc,
Lactococcus lactis subsp. lactis,
Lactococcus lactis subsp. lactis biovar diacetylactis,
Penicillium roqueforti.
ALLERGENS & STORAGE
Allergen: Milk
Store in the freezer
Shelf life 8-10 months
COO: Made in NZ from imported ingredients
Reviews
My Go-To...
This is my go-to for making my Stilton Blue. No need for separate Rochforte to be added. It's all in there! My Stilton's get rave reviews from friends and family who like blue cheese. So this culture is simple-easy to use to make fabulous cheeses...the raw milk no doubt, contributes too!
Makes a nice blue
Not much to say except that it makes a nice cheese.
All you need to know
Great little book, full of ideas and inspiration. Would not be without it. Read and re-read
Works great!
I ordered this through Amazon, which doesn't seem to sell this anymore, so I'm writing my review here. I got this to make cashew-based blue cheese using the Full of Plants recipe. I like that it's complete, with both the bacteria and fungus, so I didn't have to buy two different things. Shipping to the US was pretty fast, and the cultures survived the trip fine.
One of these five little packets is enough to culture three or four cups of raw cashews. It's fun to see the blue mold blooming on the cheese. The resulting cheese is amazing, tasting almost exactly like dairy blue cheese, much better than any storebought vegan cheese I've tried. People used to dairy cheese like this just as much.
I'm not a strict vegan, so the tiny amount of milk in the culture doesn't bother me, but I wonder if it could be made completely dairy-free for marketing to stricter vegans and people with serious dairy allergies.