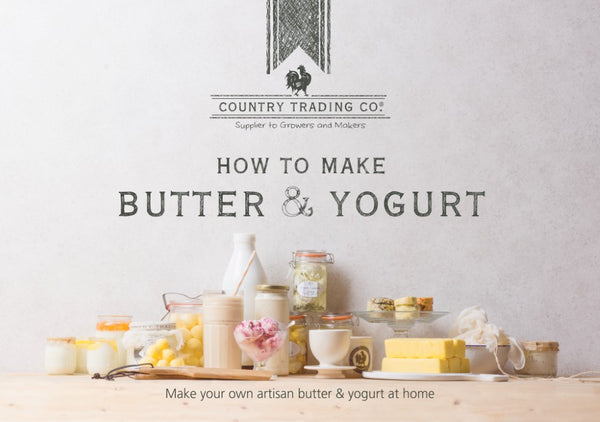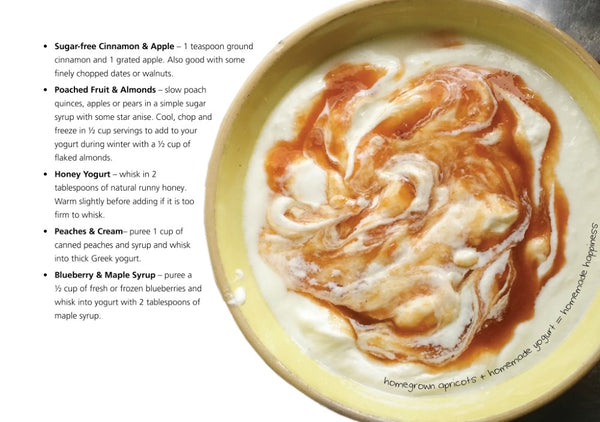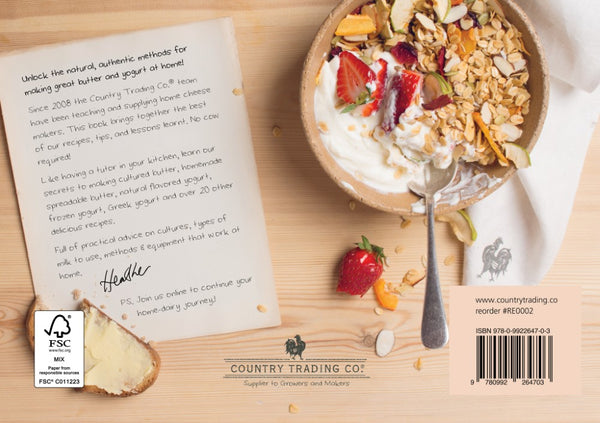 Home Dairy Vol. 1 - How to Make Butter & Yogurt
Learn our recipes for making yogurt and butter at home.  We take you on a journey in your kitchen to make yogurt and butter using natural ingredients and basic equipment.
You will learn how to make yogurts including:
Greek Yogurt
Drinking  Yogurt
Pot set Yogurt
Labneh
Frozen Yogurt 
Recipes for butter making include:
how to make cultured butter and buttermilk
recipe for making spreadable butter
flavoured butter recipes
Buy this book as part of the complete Collectors Set of Home Dairy and save.

Learn about milk, cultures, methods, and equipment – everything you need to make delicious dairy at home – even our favourite recipes to use what you make.
Why we wrote this book
Making homemade yoghurt and butter is easy when you know the tips and tricks. Commercial yogurt is so full of sugar, hidden ingredients and plastic packaging that we want to teach more people how to make yogurt and butter at home.
Follow our step by step recipe to make yogurt and butter and you won't go back to buying it.
Format: Soft Cover | 82 pages

ISBN: 978-0-9922647-0-3

Reviews
Butter and Yogurt book
Great book to have and useful as. Going to look at a couple more in this series.
Awesome book
What a fabulous wee book! Full of helpful information, tips and recipes. Very straightforward and easy to understand. Already made the Lavosh which was a great success and the yoghurt, also successful
Butter & yogurt making book
A great book, straight forward with easy to follow recipes
Highly Recommended
Our daughter-in-law introduced us to Country Trading Co' yoghurt and we loved it. We tried it made from both blue top milk and whole milk from the farm, both were delicious.
We read our daughter-in-law's copy of this book and then had to purchase our own. It is easy to understand, is written in plain, simple language with plenty of good tips to ensure your success.
We are looking forward to making our first batch of yoghurt. We also plan on making our own cheeses in the future.
Great Christmas gift!
I am so excited about this book! It will be a fantastic gift for my husband this year. We eat yogurt daily so I look forward to trying some new types & flavours.